Elevate your charging experience with the Samsung Fast Charger kit, featuring a Charger adaptor and a generous 6-foot cable type C.
Safe and Super Fast Charging with Sync Capability
Unleash the power of our Super Fast charger. Boasting an impressive output current of 25W – a staggering 75% faster than conventional chargers. Not only does it support swift charging, but it also integrates a sync feature for seamless data transfers.
Intelligent Charging for Enhanced Safety
The Samsung Fast Charger stands out for its intelligent recognition of battery type and status. With the ability to halt charging upon reaching full capacity. It also guards against short-circuiting, over-current, over-voltage, over-heating, and over-charging – thus ensuring the utmost safety for your devices.
Unmatched Speed and Efficiency
Our Samsung Fast chargers redefine charging expectations. In particular, it promises remarkable speed and longer phone usage. You will revel in the added convenience of a faster charge. Also, using the high speed fast charger cable for multiple functions, such as data syncing and transfers.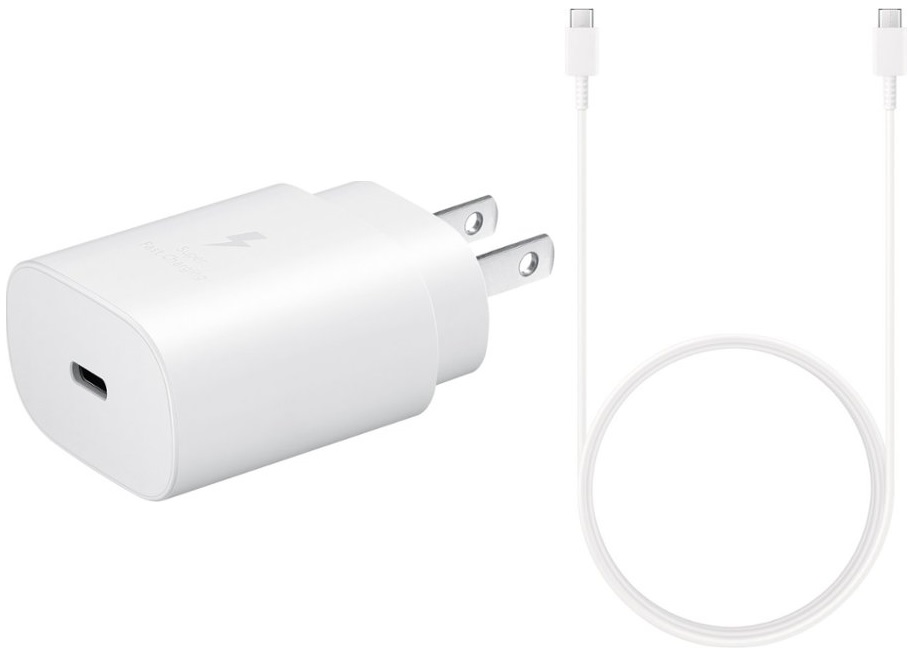 About the Samsung Type C Fast charger
The Fast Charger Kit is optimized to charge Samsung Phones and Tablets. It does this using it's type C Ports at maximum speed. Remarkably efficient, plus it caters to all non-fast devices. Therefore, ensuring they charge at their normal speed or even fast speed in certain cases. With a high-speed transfer rate of 480 Mbps, this rapid charger is designed for smartphones, tablets, and Bluetooth devices.
Safeguarding Your Devices
Featuring multiple built-in safeguards and Intelligent IC Identification Technology. The Samsung Fast Charger prioritizes your device's safety. It does this by proactively protecting against short circuits, over-current, over-voltage, over-heating, and over-charging. Rest easy knowing the rapid charger automatically stops charging when your device is full, therefore extending its overall usage time.
Package Includes
1 x Samsung Fast Wall Charger; 1 x 6ft Type C Charging Cord.
Comprehensive Kit for Swift Charging
Included in this kit is a 6ft USB C High-Quality Charging Cable and Adapter. This provides not just fast but secure power delivery. Some phone models can achieve a full charge in just 60 minutes. Thanks to the Super Fast charger's remarkable 3-amp output. Please note that our fast charger will be able to fast charge other phone models. However, certain features may be limited on non-compatible phones.